With Power-Structures Solar Systems, Now You Too Can Have Solar Power
---
Solar Power with Functionality, Beauty and Affordability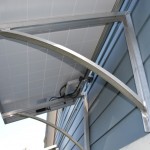 Power-Structures is a unique solar company that specializes in small, affordable solar systems that can be installed on a wide variety of structures to harness the power of solar energy without the major investment needed in the past. Our systems save you money and can provide additional benefits such as shade from the hot summer sun, power where you need it, and security from power outages.
The foundation for a Power-Structures Solar System is our sturdy awning bracket we have designed to mount panels on the sidewalls of structures. The attractive awning bracket can also be used on freestanding structures such as benches, arbors and railings. The bracket is TIG welded by a certified fabricator.  We offer a variety of standard sizes and finishes; custom sizes and finishes are also available to order. The possible places for mounting a solar electric system are now endless with our solar awning bracket.
Power-Structures Micro Solar Systems will pay back your investment the fastest because the power it produces covers the top tiers of your electrical bill. And while it's saving you money, it's helping the environment.
You may also still qualify for a federal tax credit of up to $2,500 on a system that costs as little as $8,000. Now that the CSI (California Solar Initiative) rebate is negligible there's no need to install a large system to get into solar.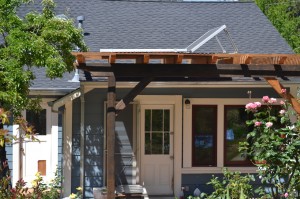 Power-Structures Solar Systems can be installed on an existing structure or we can custom build something for you:
window or door awnings
an arbor or covered pergola
outdoor seating/picnic areas
a well or storage shed
deck railings
In addition to the electricity that is generated, our systems can provide additional benefits:
create shade from the hot summer sun
shelter from rain and snow
peace of mind with emergency power back-up
We are experts at finding the best place to locate your system to provide the maximum benefits.
And we will work with homeowners who want to do some of the work themselves or who want to make use of their own solar equipment. We want you to have solar power; it's good for you and for the planet!
Power-Structures solar systems can provide an emergency power source for home or business without the need for fuel or propane by easily converting your "grid-tied" system into an "off-grid" system.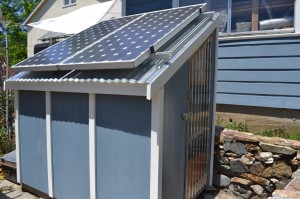 Power-Structures also provides standalone systems for well or pressure pumps, electric fences and gates, water features and pond aeration systems. (link to solar bench from water features)
Power-Structures is committed to meeting our customer's expectations and providing the highest quality service. We'll design within your budget, complete the project in a timely manner and service the system for a specified warranty period. Every system is tailored to meet the individual power requirements of each customer. Power-Structures Solar Systems are designed to be beautiful, safe, and reliable.
Power-Structures' staff has extensive experience in a variety of trades: both DC and AC electrical work, foundation to finish carpentry, stonemasonry, tile setting, and landscaping with water features. Together we design and build beautiful, useful structures, in an efficient and professional manner.
Power-Structures strictly adheres to the principle of Reduce, Reuse, Recycle. From recycling packing materials to re-claiming used redwood, Power-Structures aims to limit its impact on the Earth's resources. Often this translates to a cost savings for the customer as well.
Power-Structures uses only the best, most dependable equipment in the industry; such as Sharp and Kyocera solar panels, OutBack, SMA, EnPhase, Exeltech or Magnum inverters and ProSolar Racking products. We stand by what we sell and install.
See more of our work on our Flickr page!